Fansite:11 Dots Modern Design
From SimsWiki
11 Dots Modern Design
11 DOTS Modern Design The 11 DOTS Modern Design fansite has a wide selection of building products and home furnishings for your modern homes.
Details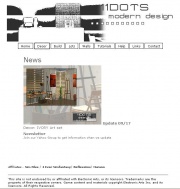 Decor
Build
Lots
Walls
Tutorials
Newsletter
11 Dots Modern Design is a free site. They do allow you to use images from 11 DOTS as long as you give credit to them but no items from 11DOTS may be uploaded or redistributed.
11 Dots Cloning & Recoloring Policy: © 2005 11DOTS.com All items contained on this site are the sole property of 11Dots.com. Nothing offered on 11DOTS can be shown or offered on the Sims Exchange. Our Sims 2 Objects may not be redistributed or cloned and published on another website, group or forum.
You may recolor my items but you may not upload the mesh I made to another website, group or forum. Please put up a link back to us. Feel free to use our items in screen shots if credit is given. Thank you!
Community
Site Owner
http://www.11dots.com is owned by 11dots
History
External links