Fansite:Sims2Community
From SimsWiki
Sims2Community (or S2C, as it's known) exists to provide a place for "simmers" to get together and share ideas, submit stories, compete in contests, chat about the The Sims 2 game (or anything else), and have fun together.
Details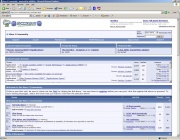 With over 16,000 members, the site is one of the largest Sims 2 fansites. It remains entirely free, although it does require users to sign up prior to posting. S2C is supported through banner ads and the generosity of members who choose to monetarily support the Sims 2 modding community.
There are active forums on the site, divided in different sections. These include:
Welcome to the Sims 2 Community includes Introductions, Site News, Site Rules and Guidelines and Site Issues. This is a good place to start when new to the site.
Sims 2 Discussion contains Sims 2 Chat, Sim Pictures, Sim Stories and Sim Movies.
Community Contests is where you will find Official Contests and Member Contests. The Official Contests are posted by Sims 2 Community staff members only. Member Contests are open to members and moderated.
General Discussion has Off Topic Discussion, Funny Stuff, The Debate Room (formerly The War Zone,) Computer & Tech Gizmo Discussion, The Greater Gaming World and Anime & Webcomics Discussion.
The Sims Universe is Where can I find ... ?, Advertise Your Sims 2 Downloads Website and Website advice centre (Archive, no posting).

There are also pictures of various simmers available in Faces to the Names 2 and Sims 2 Community/Mod the Sims 2 Photo Album.
Community
After a year of steady growth, the original MTS2 split in two in mid 2005. MTS2 continued to specialise in modding, game help and downloads, while the new sister site the Sims 2 Community focused on general chat threads, contests, advertising user sites and showcasing videos. Both sites share a live chat with various social channels. There is also Sexy Sims 2 the new Adult oriented download site.
Administrators
S2C is owned by Delphy, run by 2 main admins and various moderators, including staff that just produce items and technical resources for the game, as well as staff that just moderate the site.
See also Delphy and LyricLee and the S2C staff listing
History
External links