Game Help:TS3 Patching
From SimsWiki
Patching Sims 3
Patches are updates to your game which fix bugs, add new features, and ensure you can use the latest custom content. Unless there are major issues with a specific patch, MTS staff always recommend fully patching your game.
Before You Patch
Before you patch your game, you should:
Backup your user files
Just in case something goes wrong, you won't lose all your progress.
Remove incompatible custom content
Some custom files are only compatible with one specific game version and will not work or will cause problems with any other version.
Core, Script, XML Tuning, etc. Mods: For any mod/hack type files in Documents\Electronic Arts\The Sims 3\Mods\Packages, you'll need to remove them before patching and go back to where you got them from in the first place to see if the creator has said if they're compatible or has provided an update for the new patch version. If the creator hasn't put anything regarding updates, you must assume the mods are not compatible, and do not use them until the creator updates or verifies the mod still works with the patch you're using.
Config/Replacements: Restore any original versions (you did keep the originals, didn't you?) of any .ini or similar type files put into Program Files.
Current Patch
On Windows: Download and install to update your game to the latest version. You only need to patch the base game, not the expansions too.
Patch Notes
See here for notes on the patch : Game Help:TS3 Patching:Patch Update Log
Which region to download?
If you use the Superpatcher, it doesn't matter which region you use.
If you use the incremental patches, you need to use the correct region for your game.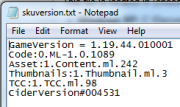 To find your game region, look in your skuversion.txt. You can find the skuversion.txt on your computer in this location:
For 32-Bit Windows: Program Files\Electronic Arts\The Sims 3\Game\Bin\skuversion.txt
For 64-Bit Windows: Program Files (x86)\Electronic Arts\The Sims 3\Game\Bin\skuversion.txt
Double-click the skuversion.txt file to open it. The first line is the current game version., and the last digit of the version tells the region. The screenshot at right shows a skuversion.txt showing a region of 1 (1.19.44.010001). If this ended in a different number (2, 3, 5, or 7) you would download the patch for that region number as listed in the chart above.
Patching Issues
If you can't patch, or you have patched and now you have problems...