Template:Guidelines-Screenshots-Lots-Gridlines
From SimsWiki
No Gridlines and Interface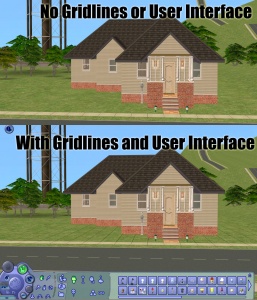 When taking your screenshots, you should take them in Cameraman Mode (using the TAB key) so that you don't get the User Interface (the blue control panel) in your shots. You also have better control of the camera in Cameraman Mode.


Tip:
TS2 - If you press R on your keyboard before hitting Tab, it will also temporarily remove the gridlines.
TS3 - You will have to move in a sim to the lot to take your pictures in Cameraman Mode, and without the gridlines. While this is a bit of a hassle, the camera controls (and resulting pictures) are MUCH better that way.