Fansite:All About Style
From SimsWiki
All About Style is a fansite offering 100% free sims 2 clothing and accessories.
Details
All about Style offers clothing for teens through elders, as well as themed clothing in the Victorian and holiday styles.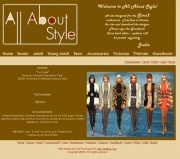 Awards
All About Style has won the following awards:
Best Sims 2 Skins, Febuary 2005, from Monika's Sims List
Best Clothes Award, May 2005, from TS2 List
Best Sims 2 Skins, August 2005, from Camie-Rocks Awards
Best Bodyshop, 2005, from The Simmie Awards
Best Sims 2 Clothes, from California Sims
Best Clothes Award, Dec 2005, from TS2 List
Outstanding Contribution to Sims 2 Community, from Three Rock Films
May Gem in category Clothing Creation, from Sim Showroom
Terms of Use
The download files on the site belong to the person who created them. Please do not copy, re-color or redistribute any of the items downloaded from the site unless express permission is given. Please do not use any of the textures in whole or in part as a base for any other skins.
By using the site, you agree to not place any of the files on another website or webserver. You agree not to redistribute or sell any of the downloads to any media for profit. You agree not to link to any of the files without permission.
If you would like to clone anything from the site, email for permission.
Please sign the Guestbook... your comments and suggestions are welcome. However, any abuse, profanity or solicitation is unacceptable and will be eliminated. No abuse or profanity will be tolerated.
The site is not affiliated with Maxis or Electronic Arts in any way. By downloading files from the site you agree that All About Style will in no way be responsible for any damages, real or imagined, to your computer or Sims2 game through the use of the creations.
Mesh Policy
You may use the meshes from All About Style on your own website and may include the mesh as part of the download as long as proper credit is given to "All About Style" and a link to the site is given on that page or on your links page. Use of the meshes on the Sims2Exchange is not permitted.
External Links