Fansite:Expressims
From SimsWiki
eXpresSims is a free fansite offering a variety of custom content for your Sims2 game.
Details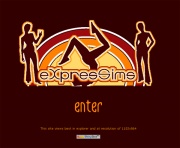 eXpresSims started in August 2005 as a freewebs site. In March 2007 the site got it's own domain and was hosted by Wicked Sims. As from August 2007 it has been part of the WickedNoukFamily.
The site offers:
Female clothes toddler to adult
Momma Lisa clothes
Accessories
Facepaint
Objects and recolours
Residental and commercial Lots
CAS

eXpresSims also has a Guest Creators section, so that anyone who can make quality content, can contact Atgnat and add some downloads there.
External Links