Fansite:Noukiesims2
From SimsWiki
Noukiesims2 is a site that specialises in mainly Bodyshop content for The Sims 2.
Details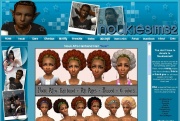 Noukiesims2 is a free Sims 2 fansite started by Nouk in late 2005. Since then, several new artists have joined to create Bodyshop content and objects for the game. As of January 2007 the creators are:
Nouk
GoldenSimmer
Sare
Nymphy
Ira
Melanie
Anva
Dour
Noukiesims2 also has a Guest Creators section, so that anyone who can make quiality content, can contact an admin and add some downloads there. This site is no longer available.
Terms of Use
You may recolor the hair textures and meshes and put them on a free site, if you link back to noukiesims2.net and the artist; you may also use the stuff on sims you offer for a free download, again: if you link back to noukiesims2.net and the artist.
You may not recolor the clothing textures and share them on websites, change the textures or use parts of them in your own creations without asking first, offer (sims with) any of the content for a pay download, attmempt to pass the downloads off as yours, or put the work on the exchange.
How does Noukiesims2 stay free for all?
Noukiesims2 is a completely free site, meaning everyone has direct access to the downloads offered on the site. Up until December 2006, it had the option for people to voluntarily donate via Paypal. According to the site owner:
Many people have donated and we have never had trouble to pay for hosting and bandwidth thanks to the donations recieved each month. Noukiesims2 has always been very open about who donated, what amount, how much we needed, and what we spent it on. This way people knew exactly when we needed a donation or not. This has always worked very well for us. The site has grown alot and in Dec 2006 we needed to get more bandwidth and space. At the current host it would be too expensive, and we could not expect our fans to donate 30 dollars every month when there was enough cheap hosting out there. We have now chosen for a yearly paid host, wich makes the total costs a month only 6 dollars, with more than enough space and bandwidth to grow more and more. We raised the money needed within just 2 days, which was remarkable! Now the donation button has been removed for at least 10 months, and the remaining costs during this time will be payd by Nouk. This makes Noukiesims2 100% free thanks to our fans!
External Links
See also