Fansite:Simply elau
From SimsWiki
SIMply elau.it is a Sims 2 fansite specialized in quality custom content for the sims. This site has closed.
Details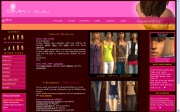 Simply Elau closed its doors in spring of 2007. Their content can now be found at The Sims 2 Graveyard
The Staff
Elau spent many time playing with The Sims game and she adore its successor: The Sims2! She loves create clothes, learn about this game and web design. She opened this site to share with others her creations and her sim-knowledge.
What she does: administers this site and its forum and creates sim's stuff and meshes.
Jaina Solo has been addicted to the sims. She likes creating skins from movies and television series. Enjoys music, movies and a good book.
What she does: moderates the forum, conducts the contests, manages the requests forum creating new stuff also published in the site.
PureGhostGR has been a simmer since the first game and has been loving it ever since. Mostly he likes creating and sharing things, but sometimes he get lost in the creative details and miss the big picture. He admires people with good taste and loves people with a wicked sense of humour.
What he does: moderates the forum and creates sim's stuff and meshes.
!MH! is a big fan of The Sims (1&2) for a long time. He enjoys playing the game but he prefers creating stuff for it. He likes people who are self-confident and can handle fair comments. He dislikes people who are rude and big-headed.
What he does: moderates the forum and creates clothes.
Nakita likes to create clothes, accessories and hair for the sims2. She also likes to play playstation games and create artwork in her spare time. Web design and graphic design interest her very much and she hopes to work in this field. She loves having a good time with her friends and family.
What she does: moderates the "your contest" forum and helps in the overseeing operations.
Didi is a lively and instinctive girl. She studies biotechnology and she wants to become a researcher. She loves the Sims 2 but she discovered a short time ago that creating new custom materials for the game can be more funny.
What she does: creates sim's stuff and helps in various projects.
She's one of those people who buy the new Sims expansion pack the day it hits the shelves. She loves both to play the game, and to create things for it. She studies web design, which is also a hobby of hers. She also loves drawing, writing and reading - and seems to be trying to prove that one can never have too many books!
What she does: moderates the forum.
Silvi is a Law student and a theatrist. Her life is divided between legal issues and creative ideas. She spends hours in front of the computer, mostly because of the Sims: she's been playing for years now and she likes to create realistic sims and funny outfits. She adores animals. She loves all art, philosophy, literature, cinema and the Internet.
What she does: moderates the forum and manages the links sections.
Maria is 14 years old and she have played The Sims for 4 or 5 years. She started skinning at first when bodyshop became downloadabale but it didn't go so well so she quit and started again in august last year. She is literally obsessed with The Sims. Other than the sims she enjoys riding and she loves animals, reading and drawing.
What she does: creates new clothes.
The Forum
SIMply elau forum was a very popular forum within the community. At the time there was more than 3000 registered users. The forum contained the following sections:
About SIMply elau: site announcements, messages for Elau, problems and suggestions about the site, the work in progress of the staff.
SImply Community: Start Here! Forum, General Sim Forum, StoryWriting, Off Topic Forum.
SIMply Learn and Create: Teach each other what we know (tutorials), Creative Workshop, Request.
SIMply Show us your creations: Clothes, Genetics, Makeup, Glasses and Accesories, Cas! and Lots, Walls and Floors, Objects, Sims, Movies/Tv/Celebrities Stuff and Sims, Videos and Graphics Stuff.
SIMply Sim Sites: Sims 2 themes, Best updates of the week, Site updates, Sim Themes.
SIMply Contests: The Sims2 Contests, Your Contests, The Sims: Quiz.
Site Owner
SIMply elau.it is owned by elau