Fansite:Sims 2 Graveyard
From SimsWiki
Sims 2 Graveyard is a fansite offering the unavailable content from closed fansites.
Details
Sims 2 Graveyard offers a variety of downloads from many large and small sites. (Boutique Emilie, ChicaChica, Foreward Motion, Get Skintight, Sera Sims, Simply Elau, Sussi's so good sims, etc)
About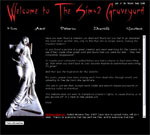 Sims 2 Graveyard was founded by an unknown saint.
Frequently Asked Questions
1. Who runs this site? The graveyard keeper and wonderful contributors.
2. Do you have permission to put these files up? Usually when sites mention ahead of time that they are closing they mention whether or not people can put them up on mts2 or share them or whatever. Most of these sites have been dead so long that nobody even knows how to contact the creators anymore. But if you look through their files you may see readme's in them. The few readme's I've looked at in the graveyard files say that they are file-share friendly and that's what this site is doing -- file-sharing. I don't look inside every single rar/zip looking for a readme, there are just too many files, so if a readme says no file-sharing in their readme, I missed it and was not intentionally going against their wishes
3. I've been told that creators are pissed off and want the site shut down. We've been banned from linking to it or discussing it on a site I go to. Is this true? If they are pissed off, I wouldn't know, and I don't see why they would be. None of them have emailed me or posted in the guestbook. I hope none of them are. The only reason that I can see as to why they would be upset is if they were being mean-spirited when they removed their items from the community. I'm not claiming I created any of these things, there are no donation items here (as far as I know), everything is labeled, and all of the sites/creators are listed on the obituaries page. If a site you frequent has a ban up--please abide by their rules even if you don't agree with them. Although their ban isn't necessary or warranted, it is up to them how they run their site.
4. How do you get all these files? Did you download them all yourself? Did the creators send them to you? The files get to me several ways. Either I downloaded them myself, someone emails them to me, or I find them on other sites (SFV for instance). Most of the files here came from contributors. As far as I know, no creator in the graveyard has sent me their own files. I think that would take too much of their time.
5. Why are there no pictures? Why would I download anything without a picture? There are pictures for alot of sites. You may not see them. They should be above the file and will end with .jpg For instance if the file is serasims/blackdress.rar look for serasims/blackdress.jpg right above/below it. If there isn't a picture, I don't have the pictures. I also don't have a way (or the time) to take pics of all the files missing pictures. If you'd like to take some pictures for the graveyard, please email me. Also, this site was never meant to be like a regular sims2 site, it wasn't meant for downloadaholics to find new things here. It was originally meant for people looking for files that they needed and knew what they were looking for. Although I'm glad downloadaholics like the site, I cant do anything about the missing picture problem right now.
6. I found a broken file or link, I don't understand why you have a certain site up, or I have some other complaint/question/comment Please leave a message in the guestbook or send an email to me webmaster@sims2graveyard.com
7. I think I saw you on a forum. Someone using the name sims2graveyardkeeper or stating they are the graveyardkeeper. Was this you? Only if that site is simsfilevault.com I don't use the graveyard username or "admit" to being the graveyard keeper anywhere but SFV. If the site isn't SFV, then it isn't me and someone is trying to get attention. Although I don't know why they would claim to to be the graveyard keeper since a small percentage of people that know about the graveyard are against it. If you visit simsfilevault.com I use the name sims2graveyard_keeper and I occasionally post there.
You can help
If you are a site owner who is closing their site, or a fan with CC from a closed site (that is not already available) then you can submit the files to files@sims2graveyard.com
External Links