Fansite:Sims Divine
From SimsWiki
Sims Divine A free site offering new object meshes, recolours, Lots, walls and floors.
Details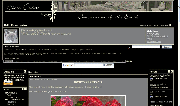 Established in 2005, Sims Divine has grown and now has 21075 members. A friendly forum site offering, free downloads, sim links, gallery, tutorials, textures and much more.
Terms of Use
I permit recolours and allow meshes to be included. Credit would be nice, a link would be nice so as I can put your work in our gallery. Items can also be uploaded in lots and files included. Please do not alter the mesh in any way and do not put on paysites or claim as your own.
External Links