Fansite:Stefan sims
From SimsWiki
Stefan Sims is a free fansite offering celebrity sims and genetics.
Details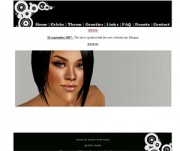 About
Stefan Sims was founded by Stefan, a former artist of The Sims Resource, and NoukieSims2. The site is hosted by Wicked Nouk.
Terms Of Use
1. Can we redistribute or recolor your creations? You are not allowed to redistribute any of these downloads without proper credits. You are also not allowed to modify any meshes, genetics or celebrities, so you could make creations of your owns, without permission.
2. Are the meshes included? Depends, if the meshes are pay (by other creators), it means that they are used only for screenshots, and that they are not included. If the mesh is new, and made by me or any other creator that is helping with this website, then the mesh is included in the zip.
3. Are you using zip or rar? Depends on file size. I mostly use zip files, but if the files are big then I use rar. If you don't have something to extract rar files, do a websearch to get a free trial of WinRar. I will not send you files.
4. How to contact you? If you have any questions you want to ask, and if they weren't discussed here, then please contact me using the "Contact" page
5. Are your creations free, or do you have any pay files? This site is 100% free, without any pay files or donation gifts.
6. Do you take requests? No, I am sorry, but I don't take requests of any kind.
7. Can you teach me to skin, or help me with skinning problems? Skinning takes alot of time, and it is not easy to teach. I can't help you with that, but there are some great tutorials, check MTS2 or do a websearch.
8. Can I use your files in my uploads? Yes, but only with proper credits (a clickable link back).
9. Can I modify your skins? Can I use your skintones as a base? If you want to modify my skintones to create your own sims (celebrities) you are not allowed. There are some skintones over at MTS2 of mine, which you can use, but not the ones from this site. You can't use any parts of my face skintones to make face skins of your own.
10. What about credits? If I use any custom contents by other creators, their websites will be credited on the "Links" page in the "Credits" section. Also the creator or their website will be credited in the download description of the sims2pack.
External Links