Game Help:Sims 3 Worlds/Bridgeport
From SimsWiki
Description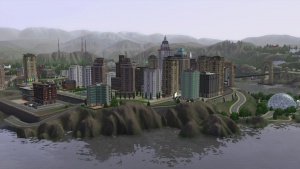 Bridgeport is the sole neighborhood that shipped with Late Night. It is an urban environment filled with bars and it has a unique "Downtown" status that alters tunable features such as the work hours for specific careers, and the types of animals that roam about if Pets is installed.
Lots
The town's central business district showcases the lack lustre apartment system for The Sims 3, as well as the bar, lounge, and club venues that attract celebrities. These community lots introduced with Late Night observe strict opening and closing hours.
Residents
The town comes with 28 premade families, including several comprised of vampires. Most of the residents live in apartments, with higher-level celebrities living in the mountains across a bridge in their fancy, gated-in mansions.
Hotspots
Check the newspaper for the 'hot spot' for the night. You can do this by simply having a sim read the newspaper. A little bubble will pop up in the top right corner saying where the party is going to be at.
Bugs
Bridgeport is plagued by serious bugs, particularly regarding routing.
Related Pages