>

Pixel dollhouses/For sims to live their lives in/Nice houses for sims
Gwrych Barony 1x2 Merchant Cottage: POTTER
MTS has all free content, all the time. Find out how YOU can help to keep it running.
Tell me how...


Created by StephSim View Policy / About Me View Downloads Home
Uploaded 27th Aug 2011 at 3:37 PM · Updated 15th Sep 2011 at 10:37 PM by StephSim
Gwrych Barony 1x2 Merchant Cottage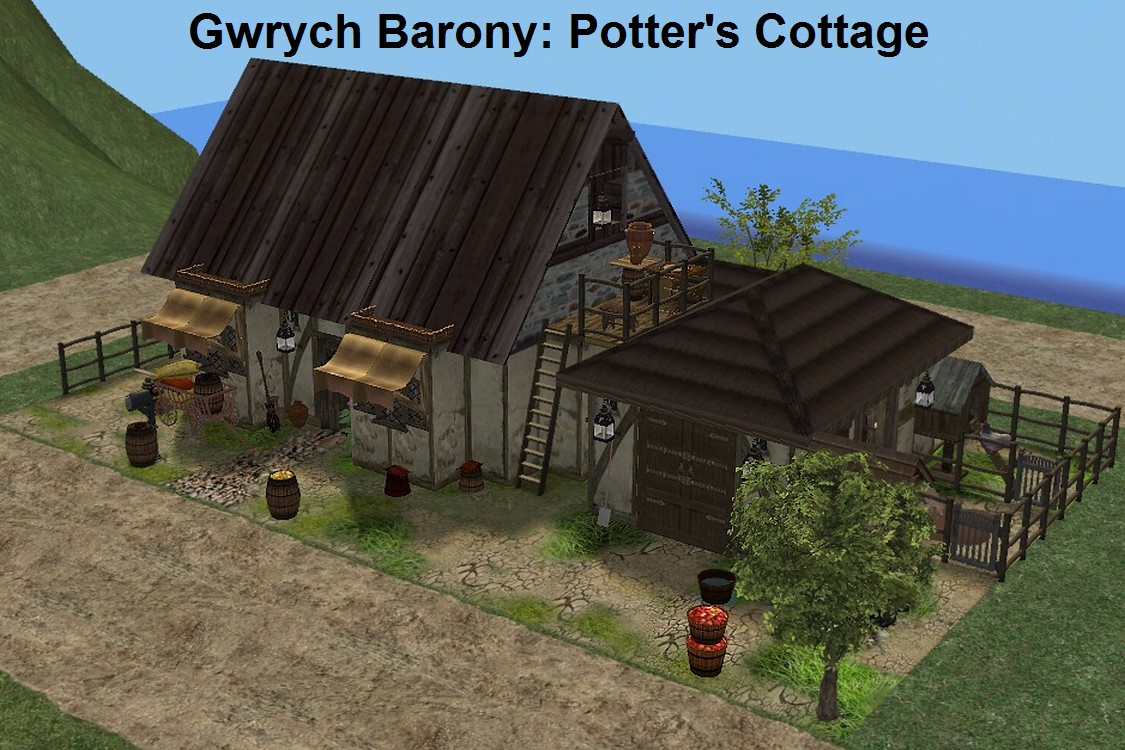 **POTTER'S COTTAGE***
(NO STUFF PACKS)
Potter Cottage INFORMATION
:
Lot Size:
1 x 2
Lot Cost
:
50,069 Simoleons
Bedrooms/Beds
:
2 Bedrooms with 2 beds (Sleeps 3)
Toilets
:
1
Showers/Tubs
:
1 Bathtub
Furnished
:
YES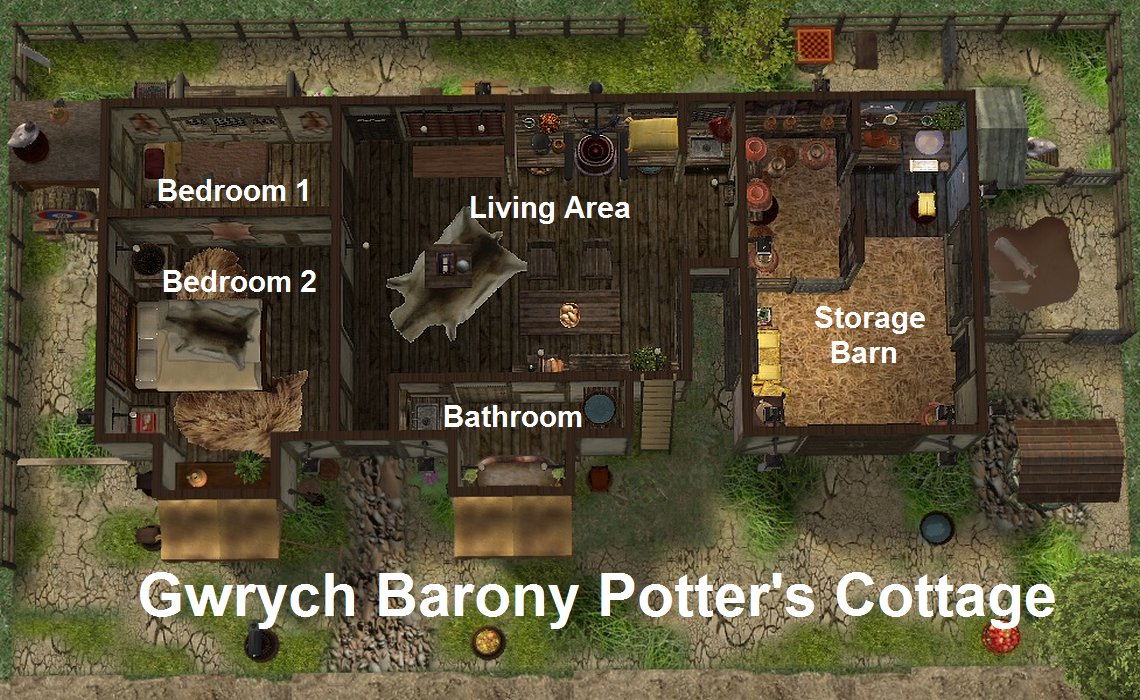 This 1x2 lot is ideal for a Potter who lives close to the main village. It includes a master bedroom and a second bedroom for an apprentice or a young child. There is a cozy living space with a sitting area, a dining area and a kitchen. This house has 3 entrances to the main building.
There is also a small barn. It is for personal use for the merchant's family. It has one small stall (which is loaded with pottery). There is a small work area (with a Crystal Ball computer). There are 2 entrances to the barn. The side door leads out to the the pig pen and the henhouse. There are a series of gates leading from the pig pen to the henhouse and out to the rear of the property.
The rear of the property has a small barbecue area and a chess barrel. There is also an ax throwing log to the west of the property.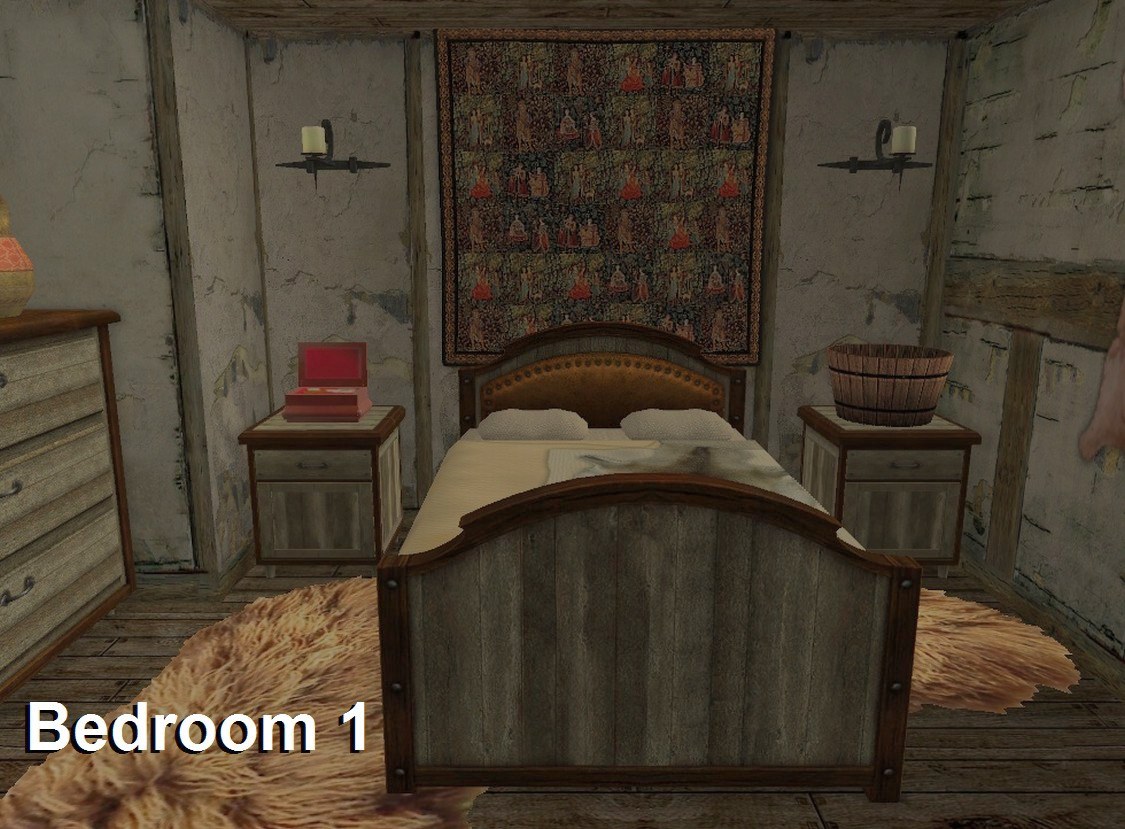 IMPORTANT NOTES
:
*Ermelind has other roof options available at her site here if you are interested:
http://www.sims2collage.de/ermelind...brokenroofs.php
*The kitchen appliances are included. In the Gwrych lots, the refrigerator is typically invisible and can be found in a bucket of food under a counter. There is also an invisible dishwasher that is also located under a kitchen counter and accessed by clicking on the bucket of water beneath the counter. The Pot Belly stove by
Numenor
serves as both stove and trash compactor.
*There are lots of BARRELS in the game thanks to
Sophie-David
. Some are tables, others chairs and others purely decorative with neat clickable options. Still others are trash barrels. I suggest you click around and discovery how things work in the lot for yourself.
*This lot comes with an invisible smoke detector in the necessary rooms. There are also burglar alarms hidden behind certain furniture so they don't stand out. Please note, I have an adjustable height patch (created for my use by
Sophie-David
) that allowed me to raise and lower the burglar alarm at will. If you move the burglar alarms, you will not be able to get them back as they were.
*This lot is not meant to be a home business, BUT by adding adding a few shelves in the barn, placing the pottery on the shelves and adding a cash register, you can easily transform the barn into a small pottery store. There will be other lots that are home businesses.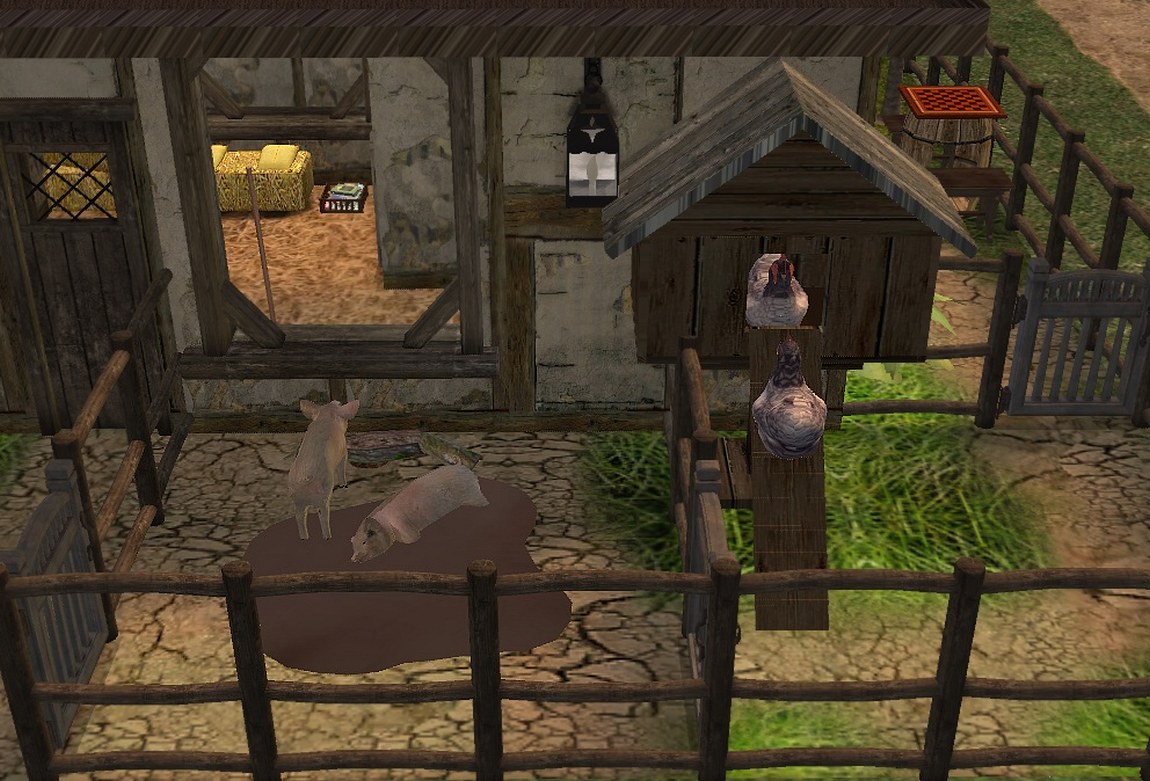 *Since this is a medieval themed lot, you can download patches that will allow your Simmies to earn physical points for dancing and ax throwing. Links below:
Earn Physical Points Dancing
http://www.moreawesomethanyou.com/s...pic,2383.0.html
-
More Awesome Than You
Earn Physical Points Ax-Throwing
http://www.modthesims.info/d/435442
-
Sophie-David

Enjoy the download!

Lot Size:
1x2
Lot Price:
50,069
CUSTOM CONTENT
: All necessary Custom Content is
included
in the download for this lot.
Custom Content by Me:
- Medieval Floor 42
- Elemental - Stones 2 Terrain
- Beach Grass Terrain 1
- Medieval Terrain 14
- Medieval Terrain 16
- Medieval Terrain 18
Custom Content Included:
- Lantern Red Mesh & Black Recolour by
-Maylin-
- Merry-making 1 Tile Table by
Ailias
- Amphore Vase by
hopebayler
- Delectable Variety Breads and Bread Roll Basket by
mdhttr323
- Single Floor Mattress by
Atavera (retired)
- Sims Acres Horse Feed by
Paleoanth
- Toddler Rideable Piglett by
Rebecah
- Good ole' fashioned Chess on a good ole'fashioned cracker barrel. by
Aligeth @ MTS2
- Medieval Awnings by
Crocobaura
- Insane Sorcerer Crystal Ball TV by Cthulhu Gizmos Inc. by
wintermuteai1
- 3x4 Floor Rug by
Nicolafred
- Hay Bale by
Paleoanth
- Axe, Saw, Shovel and Handcart by
Hexameter
- Wood Roof by
Ermelind
- Pile of Wood by
feeEssen
- Hen & Hen Houseby
Tarox
- Invisible Smoke Alarm by
pfish
- Banya Broom by
Jeka
- Atlanta Wall Mirror by
Parsimonious Sims 2
- "Eponymous Garden" Foxgloves by
Parsimonious Sims 2
- "Imperial" Simple Candle Lamp by
Parsimonious Sims 2
- "Mottleweed" Witches Broomstick by
Parsimonious Sims 2
- "Pirate Bay" Fence, Door and 3 Windows by
Parsimonious Sims 2
- Decorative Mailbox Cover & Rustic Recolour by
Parsimonious Sims 2
- "Sultana" Jug by
Parsimonious Sims 2
- "Trading Places" Earthenware Vase & Recolour 2 by
Parsimonious Sims 2
- "Winterwood" Table Lantern by
Parsimonious Sims 2
- "Woodcutter" Kitchen Bathtub by
Parsimonious Sims 2
- Mortar and pestle by
Lethe_s
- Music Box by
Lethe_s
- Wallpaper mask by
Dark Project
- Just a Ladder & Gray Recolour by
marvine
- Medieval Bench, Toilet and Kitchen Bench by
Tarox
- Pottery - Mesh & Recolour by
Blacky
- Pet Bowl - Tree Bark by
feeEssen
- "Good Ol' Times" Coal Stove (UV) by
Numenor
- Magazine Rack Recolor by
Shoukeir
- Magazine Rack & Magazines by
Numenor
- Antique Scroll-in-a-Box Table Phone Base & Handset by
HystericalParoxysm
- Firewood Shed by
RealGanacampo
- Comfy Bucket Chair by
Sophie-David
- Decorative Barrel & Bucket by
Sophie-David
- Decorative Puddle Master, Chocolate Recolour and Prodigious Size by
Sophie-David
- Barrel End Table and Table by
Sophie-David
- Horizontal Sack Master & 3 Recolours by
Sophie-David
- Simple Barrel by
Sophie-David
- Storage Bucket by
Sophie-David
- Trash Barrel Master by
Sophie-David
- Barrel Content Apples, Oats and Potatoes by
Sophie-David
- Barrel Colors Dark Oak, Aged Oak, Old Oak and Dark Red by
Sophie-David
- Water Bucket by
Sophie-David
- simsisticmeat1412 by
simsistic
- Recolour by
Lord Darcy at MTS2
- Pelt Rug 2 and 3 by
Magick Modders
- Pelt Wall Mask 1 by
The Guild Masters
- Plaster Village House Set (2-6, 11, 12, 14) by
sunni9676
- Medieval Wall by
Magick Modders
- Xanathonian Crystalsphere Personal Conjurer (PC) by
xanathon
- Medieval Door Recolours - Just a Door & Open Sesame by
Magick Modders
- Second Hand Bedspread by
Dewshine
- Dark Wood Maxis Set (Chair, & Table) by
DLMulsow
- Hearthstone Quilt Recolors - 2d and 4a by
Gwenke33
- 3 piece Plain Mountain Bed Set Recolours by
Justmoi
- Stone Maxis Sink Recolour by
Mia86
- Maxis Wood Recolours Counter, Spice Rack, Juice Rack and Shelf by
Kalimero
- Invisible Mini Fridge & Invisible Dishwasher by
Sophie-David
- Straw Bedding by
The Guild Masters
Number of bedrooms: 2 Bedrooms
Custom Content Included: Build and Buy Mode Content
Furnishings: Fully Furnished
Special Flags: Not Applicable

Tags: #medieval, #cottage, #gwrych, #potter, #barn, #small, #tradesman, #merchant, #stephsim, #1x2 lot, #1x2, #kingdom
~*~StephSim's Creations~*~
❤ Welcome to my little space of the Simming Community!❤
As of July 2016, I've decided to reinvent myself (again). Basically, my Sim Creation Renaissance is long overdue! It's time to release the old and move forward, doing things that sustain me in meaningful ways. ◕‿◕
I shall start with a wonderful new Sim Place to call home! And now the Official Unveiling (....drum roll...):
CLICK HERE to experience StephSim's BRAND NEW SIMS 2 WEBSITE called *** Proudly Banished *** !!!
Proudly Banished is my little storage place for a select few of my Sims 2 creations. Since I will NOT be Simming as much, I wanted to provide a small landing pad for random creations I will be sharing. I will on occasion share NO CC/ LOW CC Lots and MTS related recolors here on MTS. However, my CC LOADED Lots will be Housed at Proudly Banished. I've also add the updated Fully Loaded Versions of the American Gothic Mansion. Be sure to click on the Slideshows when available! You will find a few lots, object recolors, clothing recolors and the Regina Mills Sim (from Once Upon a Time)! There should be a little something for everyone!
Take your time and explore the site and be sure to check out *Sherwood Forest* for my PBK Community Goodbyes!
See you there. (。♥‿♥。)
POLICY
All StephSim walls, floors, and ground covers can be freely used in lot creations on any free or pay site. Feel free to use my neighborhood maps/terrains for any and all of your Simming needs. Feel free to use any objects or object recolors shared on MTS or elsewhere in the Sims 2 community in your creations (lots, movies, stories) Feel free to recolor objects I upload and include the mesh. Feel free to use any Sims I create or my lots for your Sim movie making purposes! In using any of my creations. Credit is not necessary, but please do not claim any shared creations by myself,
Sophie-David
,
Jason Duskey
or anyone who I team with as your own.