User:Rapsheba555
From SimsWiki
Rapsheba555

(No, seriously, has anyone seen my sanity?)
a.k.a.
Raps, GlobalModsheba999, Ralphy, DrRapsheba555
Join date
2006
Main Skills
Building, Meshing, Handpainting textures
About
Rapsheba is an avid Nintendo fan. He is known for his specialized creations which usually fall within the realm of the comical or even absurd, at least in the Sims world. He frequently creates things for the Sims 2 that are derived from Nintendo games such as King Boo and The Nintendo Wii. Yes, he is aware this qualifies him as a nerd. He also has a passion for houses and has a housing series called "Suburbia" that contains houses from all styles. He joined the Sims community in 2006, and uploaded his first download, 885 Kerrington Drive, on January 1, 2007 to ModtheSims2. He has since uploaded 48 separate downloads and does not plan on stopping anytime soon. He has a hatred of the Exchange and the people there that do not read his no-redistribution policy. He also has other hobbies such as piano and drawing, and he enjoys reading and reads about 75 books a year. He plans to attend college with a double major of computer animation and architecture. He then hopes to work for Nintendo as a 3-D modeler and animator. He recently was enlisted in the Staff at TheSimSupply.com and currently functions as an Administrator. He is quite fond of cookies, especially ham cookies, and he drives an aquatic dump-truck.
Rapsheba555's Logo
Rapsheba can be recognized by a "555" and/or a gold crown with pink and blue stones.
Rapsheba555's Policy
"You may recolor my creations, but you may only upload your recolor to MTS, and nowhere else. No TSR or the Exchange or anywhere else. You are not to include my meshes with your upload, and you are not to steal my meshes or textures for your own unrelated project. You may not redistribute my houses, and my objects may not be included in your house file, though you can use them in your house. Simply instead of uploading them with your lot, link back to my original upload. If I see any content that is stolen from me, I will summon the all-mighty Silver Monkey of Doom, and i will report the theft. I'm not a mean person normally, but i do take offense when my policy is violated. Absolutely NO redistributing of my stuff via the Exchange. Please read my Global Policy for more specific rules. Thanks, and enjoy my creations!"
Notable creations
Nintendo Wii- This is easily Rapsheba555's most popular creation with over 37,000 downloads. It became a Picked Download soon after its uploading. It is also Rapsheba555's most viewed download and also his most thanked.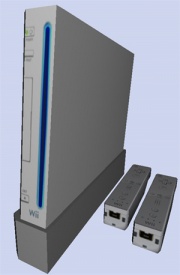 885 Kerrington Drive-Rapsheba555's first upload
King Boo and His Minions-Though now badly outdated and superseded by Rapsheba555's King Boo and His Minions *redeux*, this is still Rapsheba's first custom mesh.
Princess Peach's Castle Version 2.0-Rapsheba's version of Princess Peach's castle. He is currently working on a new version for "The Galactic Project," a one-man stuff pack that will have objects, characters, and locations from Super Mario galaxy and Mario Kart Wii. The updates and feedback thread for this project can be found here.
Rapsheba's Best Quotes
"No, really, I'm a boy. It's the crown that throws everyone off."
"It wasn't really a hardware issue, it was more of a 'The user of the Sims 2 is an idiot' issue."
"Actually, I quite love your mules. They make me get things done."
"Well, what do you expect? It's your fault that you were born an Asian girl with a hot Australian accent! You just HAD to make yourself that irresistible. Remember you're dealing with a guy here. Who's teasing? I'm going to get pounded next time we play Mario Kart for that, aren't I? Well, toss your inner fangirl a cookie. i can hear her from here."
"Oh, witty banter, how i've missed you!!!!!"
"Now, excuse ME! I have to go figure out why I suddenly have boobs!"
Best Quotes About Rapsheba555
"I have 10. And I want moar! But in all seriousness, this is probably the sexiest thing I've seen EVER. I swear I'd be lost without you. My inner fangirl is screaming wildly. lol."
-Ishi
"Raps is the voice in the machine. He runs Nintendorks. He watches us. He knows everything we do. He KNOWS you pick your nose when you're alone. Don't try to hide it from Raps. He knows where the missing socks go. He knows why the chicken crossed the road. He knows Bingo's real name. He KNOWS. Don't mess with this dude. He knows where you live! ... Okay. Maybe he doesn't know that. Lets not go overboard here. Gawd, you think he's a stalker or something? Don't lie. He knows what you're thinking too."
-WWW
Tutorials by Rapsheba555
Fancy Arches on Multiple Levels
How to UV-Map Spherical Objects
Related Links