Delphy's Download Organiser/General Usage
From SimsWiki
The Download Organiser program may seem hard to understand, and some of you might wonder exactly what you can do with it. This page is for you.
What you can do with the DDO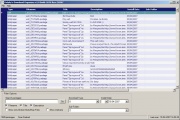 Now that you have the program installed, you'll be presented with the main screen, which lists all of your currently installed custom content from the Sims 2. You may search, filter, or sort the information presented so that you get a better understanding of the type of content you have.
Important Points
Click on any column heading (Filename, Title, Description) to sort by that column
Left-click and then Right-Click on a row to get a context menu of choices
Use the Filter Options to restrict the view of data by type, date or sub-folder
Use the Search Options to restrict the view by filename, title, description
Common Scenarios
You can use the DDO for:
Easily moving custom content into sub-folders based on any criteria
Deleting duplicate or orphan package files, thus speeding up your game
Showing easily any possible problem files, such as Hacks, Careers etc